Signify, Inventronics, Seoul Semiconductor, Mullinsen, HES Technology Group, Foshan Lighting, etc., this week
Jessica
www.alighting.cn
2022-06-20 11:27:23
Signify China headquarters became the first lighting company to complete a third-party carbon neutral audit
On June 16,  Signify announced that it has fully achieved its carbon neutral goal of 2021 by optimizing energy efficiency, utilizing renewable energy and innovating lighting technology and service model. Signify has become the first and only lighting company in China to complete BSI PAS 2060 carbon neutral certification. On the basis of its own carbon neutrality, Signify takes driving the entire value chain to reduce carbon emissions as its mission, and launches the "Low-carbon Lighting Transformation" program. Together with upstream and downstream partners, Signify will help achieve China's "dual carbon" goal and high-quality sustainable development. In the future, we will continue to provide higher quality and more environmentally friendly lighting products, technologies and services, actively drive energy conservation and emission reduction of enterprises across the value chain, lead all industries to move towards carbon neutrality and embrace new opportunities of low-carbon development.
Inventronics to acquire Osram's Lighting Components Digital Systems business unit
On the evening of June 15, Inventronics announced a major asset purchase plan. The company intends to purchase the digital Systems business unit of global lighting giant Osram in cash, which focuses on lighting components. The products mainly include various indoor and outdoor LED drive power products, LED modules, LED light engines, electronic control devices, etc. The transaction is expected to constitute a major asset restructuring, related audit, evaluation and other work has not been completed.
Through the transaction, The company will use the marketing channels of osram's digital Systems business unit, which focuses on lighting components, to extend its main products to end customers in The European region. At the same time, it will further improve the company's global layout of production, sales, research and development and other functions, which has important strategic and economic significance for the company's global business development.
100 billion a year, Seoul Semiconductor announced a new step in research and development
According to Pulse News on June 16, Seoul Semiconductor announced that it would invest 100 billion won (522 million yuan) per year in r&d to develop the second-generation technology in the LED industry. Seoul Semiconductor Develops and manufactures products with wavelengths ranging from visible light to ULTRAVIOLET, infrared and laser diodes (VCSEL) (100 to 1400 nm). It has about 18,000 LED-related patents applicable to ordinary lamps, automotive lamps, displays and home appliances, and is preparing to lead the global LED market with the next generation of LED technologies.
According to a report released by global market research firm Omdia in May, Seoul Semiconductor held 6.9 percent of the global LED market as of the end of 2021, ranking third after Nicochem of Japan (13.6 percent) and Osram of Germany (8.5 percent).
Mullinsen and wild light source research institute signed a strategic cooperation agreement
On June 13, 2022, guangdong wild light vision care institute chief expert, national 973 project's chief scientist, ophthalmology, honorary director of the state key laboratory of ophthalmology lifelong professor GeJian, guangdong wild light vision care institute Chen Ziping dean line of wooden Tomlinson, visiting the held by the wood Tomlinson lighting project "rhythm lighting and human health" workshop. The strategic cooperation signing ceremony between Mulinsen Lighting Engineering and Ye Light Source Research Institute, the focus of this cooperation will be educational lighting, jointly create high-quality products and services, to provide users with high-quality light environment. The two sides expressed that they would inject new impetus into the innovative development of educational lighting through complementary advantages and resource integration, provide effective lighting intervention methods for the prevention and control of myopia of young children, and protect the visual health of young children.
Foshan lighting and Dongpeng holdings reached cooperation
June 14, Foshan Lighting and Dongpeng Holding signed a strategic cooperation in dongpeng headquarters. This cooperation. The two sides will fully integrate the superior resources of the enterprise, establish long-term strategic cooperative relations, achieve cross-border integration and win-win cooperation.
In recent years, Foshan Lighting has made great efforts to optimize the industrial layout, and its business has gradually expanded from the original general lighting, electrician, car lights to intelligent lighting, animal and plant lighting, health lighting, Marine lighting and other fields, striving to build a competitive lighting industry cluster. Wu Shenghui, chairman and Party secretary of Foshan Lighting, expressed the hope that the two sides would take the strategic signing as an opportunity to integrate the advantages of both enterprises, further explore deeper cooperation in sales channels, establish innovative business cooperation model, and achieve a win-win situation.
In the future, Foshan Lighting and Dongpeng Holding will combine to further expand the professional market, accelerate the industrial layout, and jointly promote the strategic upgrading of the enterprise.
HES Technology Group won the bidding for the city lighting improvement project on the north bank of Qiantang River with RMB 58.407,423
On June 15, Hangzhou construction project bidding platform released information, horsey Technology Group Co., Ltd. won the bid with 58.407,423 million yuan "Qiantang River north bank city lighting upgrade (Qianjiang New Town section) project EPC contracting project".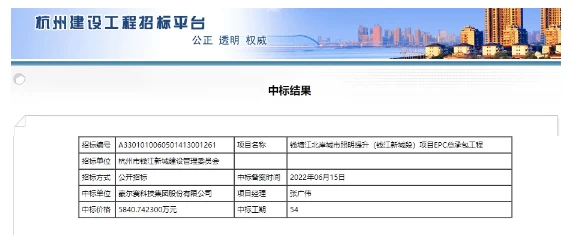 It is reported that the scope of this upgrade is to improve the urban lighting (including basic lighting) of buildings, greenery and embankments within the scope of Qianjiang New Town (the core area of Qianjiang New Town enclosed by Qiantang River, Qingjiang Road, Qiutao Road and Qingchun East Road). Construction site: Qianjiang New Town (the core area of Qianjiang New Town enclosed by Qiantang River, Qingjiang Road, Qiutao Road and Qingchun East Road)
A total investment of 11 billion dongxu high-end optoelectronic semiconductor materials project was laid the foundation
On June 14, dongxu high-end optoelectronic semiconductor materials project with a total investment of 11 billion yuan was held in Lishui Economic and Technological Development Zone, Zhejiang Province.
It is understood that this is the first major manufacturing project of ten billion in Lishui city, covering an area of about 450 mu. Dongxu Group will produce the key basic materials of "one core and one screen", break through the long-term monopoly of foreign countries on the domestic semiconductor high-end equipment market, alleviate the "bottleneck" problem in some domestic display materials and equipment manufacturing, and ensure the safety and stability of the industrial chain and supply chain.
Lianchuang optoelectronics transferred the controlling interest of Light Technology
Lianchuang Optoelectronics announced on the evening of June 13 that the company and Zhongji Hengguang Holdings Co., LTD. (full name: Zhongji Hengguang Holdings Co., LTD.) signed an "agreement of Intent to transfer equity". According to the agreement, the Company intends to transfer the controlling equity of Zhiguang Technology (full name: Jiangxi Lianchuang Zhiguang Technology Co., LTD.) indirectly held by the Company to Zhongji Hengguang. If the transaction is successfully completed, Zhiguang will no longer be included in lianchuang's consolidated financial statements.
Lianchuang optoelectronics believes that by stripping the assets related to the backlight sector with low profitability, the company is expected to further improve its profitability and optimize its asset structure, thus enhancing the company's ability to continue to develop. It is worth noting that this transaction is still in the planning stage, and the Agreement of Intent for Equity Transfer signed is only an agreement of intent, and the final plan has not been finalized, so there is some uncertainty in the transaction.
The Chinese Academy of Agricultural Sciences (CAAS) has made new progress in the research of solar spectrum utilization in plant factories
Recently, the facility Plant Environmental Engineering innovation team of the Institute of Agricultural Environment and Sustainable Development, Chinese Academy of Agricultural Sciences has made new progress in the study of multi-spectral efficient conversion of solar energy in plant factories.
In this study, a plant spectral complementary method of solar energy frequency division guided light-photothermal co-conversion was proposed, and a theoretical model of light-matter interaction at multi-wavelength scale was established, which is of great significance to further reduce energy consumption in plant factories. Related research results published in the journal of energy conversion and management (EnergyConversionandManagement).
The research team proposed a spectrum and light intensity co-optimization system for plant factories. The system not only conducts photosynthetic spectra for plants, but also converts non-photosynthetically active radiation spectra into heat energy for storage. The total efficiency of light conduction and energy transfer of the system is over 50%. At the same time, in order to better match the photoelectric needs of plant factories, this research will be further combined with photovoltaic, thermoelectric power generation and other technologies, for the realization of low energy consumption and sustainable plant plant development.