Camping fire out of circle, camping lighting market opportunity geometry?
Since qingming Festival, the attention of camping continues to rise, and the following May Day holiday, Dragon Boat Festival holidays continue to "highlight" :
According to data from Ctrip, bookings for camping products during the Qingming Festival have increased by more than 3 times year on year.
According to Ctrip's "2022 May Day Holiday Travel Trend Forecast Report", "provincial travel" has become the mainstream travel mode of this year's May Day holiday, ranking the most popular order in Guangdong Province. Its camping product orders account for about 1/3 of ctrip platform, and the average daily order volume is 1.8 times higher than that of Tomb-sweeping Day.
Flying pig data showed that in nearly a week before June 1, bookings for Dragon Boat Festival camping increased by more than four times compared with the previous week.
And a delicate camping, can not leave the beautiful lighting foil. Driven by the "camping fever", the sales volume of outdoor camping lights increased by 180% in the first 10 minutes after the opening of jingdong's "618" campaign.
So, camping economy explosion, can become a lighting enterprise to dig gold point?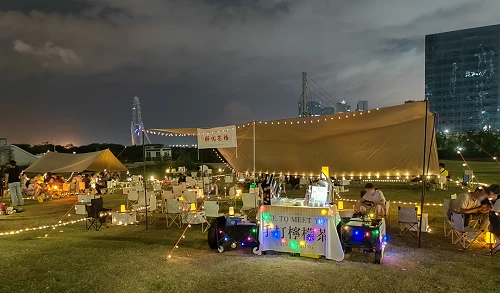 Lighting enterprises who can share a slice of the pie?
Under the night, the camping lamp with firefly yellow light makes the camp in the mountains look like a fairy tale. Camping lighting has become an essential part of a delicate camping. Recently, long amount of shares, Aike shares, Gold Wright, Lang te intelligent lighting enterprises have added the concept of "camping economy".
The company has formed a series of LED mobile lighting and LED household lighting products. LED mobile lighting products include LED emergency lights, LED flashlights, LED camping lights, headlights and searchlights, etc.
On June 2, in response to a question from investors asking if the company has any revenue from the 'camping economy', The company said that its mobile lighting products are suitable for outdoor use.
Ecker shares has smart lighting products, which in addition to the traditional sales model, have also developed the e-commerce sales model. Its dark moon lamp and egg camp lamp are sold on Amazon, JINGdong, Tmall and other e-commerce platforms. 
Gold Wright investors interactive platform on May 20, said the company research and development production of rechargeable lighting lamps and lanterns, small dc fan the small home appliance product such as rechargeable has rechargeable, mobile, portable etc., the vast majority of products can be widely used in outdoor leisure activities, highly match people in the outdoor camping activities demand for emergency power and portable products.
Mr. Kinwright also noted a recent increase in the company's customers' appetite for portable products for outdoor use. At the same time, the company also upgraded outdoor lighting products to meet the needs of outdoor lovers, adding eye protection, mosquito repellent and other functions.
Lonte Intelligent said on the investor interactive platform on May 18 that the company's off-grid lighting product is an off-grid solar lighting system, which has both energy storage and lighting functions and can be used for outdoor camping lighting.
In addition, on June 23, Lonte intelligence released investor relations activity record form pointed out that in the first half of this year, the traditional smart home and small appliances, consumer electronics and other areas of product demand has a certain degree of weakness, while off-grid lighting and automotive electronics growth is more obvious.
In addition to the traditional lighting enterprises, camping lighting field also ushered in a crossover. On April 19, Meizu held a new product release conference. Its PANDAER cooperated with Mu Gaodi to launch the "Oasis" afternoon camping Package of PANDAER X mu Gaodi. In collaboration with studio "Non-essential Non-cooperation", the PANDAER planet beacon light box is launched to target the camping market.
PANDAER beacon light box
Observation shows that the current camping lighting market is still in its early stage, and now the enterprises in it mainly benefit from the precipitation in mobile lighting, rear lighting, off-grid lighting and other fields; And the enterprise that does not have relevant business before, also can pass the way of cross boundary cooperation, run quickly enter the arena.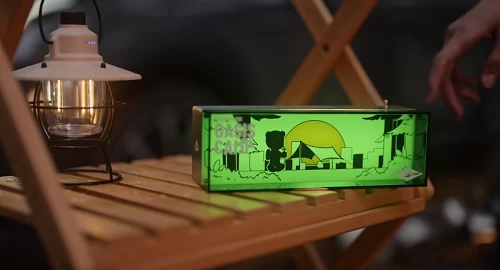 There are three big problems with industry development
Camping lighting market boom, is really unexpected. But as a kind of camping equipment, camping lighting faces three main problems.
First, the repurchase rate is low. As a matter of fact, camping lighting is not consumable and can be reused for many times once invested, so there are great challenges in improving the re-purchase rate of camping lighting.
Second, high degree of homogeneity. The technical threshold of camping lighting is not very high, after the product is put on the market, it is easy to be imitated by other brands, and the market homogenization is serious.
Third, the lack of policy guidance. Camping is still a new form of business in China, which needs to be regulated and guided by policies.
Fortunately, local governments have taken notice of the market. On the afternoon of June 17, Guiyang Tourism Industry Association held a press conference in Guiyang Culture and Tourism Bureau, and issued the "Guiyang Outdoor Camping Site high-quality construction and service guide" and "Guiyang" "Traceless camping" proposal ".
Among them, "Guiyang Outdoor Camping Ground High-quality Construction and Service Guide" mentioned that the camp should be 24h power supply, emergency power supply system perfect; Buildings should be provided with outdoor lighting, and internal roads should be conventionally lit. The lighting of each camp should be soft, and the lighting of the accommodation area should meet the requirements.
Can it become a new market for lighting companies in the future?
A temporary hot is not enough to excite, can become a long-term market lighting enterprises decide whether to increase investment in the key factor.
In terms of market prospects, the recent performance of the camping market is largely affected by the epidemic. Under the epidemic prevention and control policy, short-distance travel has become popular. Compared with scenic spots and shopping malls that are crowded with people, camping has become a new choice for many consumers because of its short-distance, comfortable, fresh and wild features.
However, with the improvement of the epidemic prevention and control situation, especially the announcement by the Ministry of Industry and Information Technology on June 29 to cancel the "asterisk" mark on the travel card and adjust the quarantine control time in the ninth COVID-19 prevention and control plan, the tourism industry will recover gradually in the future. Against this backdrop, it remains to be seen whether the camping market can maintain its current appeal in the future.
But despite the impact of the epidemic, camping has become popular and will become an important part of the tourism market in the future. "Even without the epidemic, the domestic camping market is at the trigger point. In the past two or three years, tent hotels and rv camps in China have established a good foundation, but the mass camping accelerated, so that consumer demand exploded during the epidemic."
Industry research backs this up. According to the research Report on the Current Situation of China's Camping Economy and Consumer Behavior data from 2021 to 2022 released by IMedia Consulting, the market size of China's camping camp increased from 7.71 billion yuan to 16.8 billion yuan from 2014 to 2020, with a compound growth rate of 13.9%. In 2021, the camping camp market grew rapidly, with a growth rate of 78% and a market size of 29.9 billion yuan. In 2022, the market size is expected to reach 35.46 billion yuan.
A rising tide lifts a ship. For lighting enterprises, camping market or difficult to become a big blue ocean, but with small and beautiful attributes, there are certain development opportunities in the future.