【electronica 2022 Roundup】Automotive Lighting/Display and Optical Sensing Solutions for the Future
LEDINSIDE
2022-12-07 08:34:58
electronica, a biannual electronics trade fair held in Munich, Germany, is one of the top events in the global electronics industry. This year, electronica 2022 took place between November 15 and November 18, 2022, focusing on consumer and automotive electronics.

Everlight offers automotive lighting components for the original equipment (OE) market, where its products are adopted for rear combination light (RCL), daytime running lamp (DRL), front fog light, and ambient light applications. In response to the rise of intelligent ambient lights, Everlight joined the ISELED alliance in 2019 and launched the 3534 Smart RGB LED. In addition to white light products, its ALFS lineup comprises bi-color LED packages for the two-in-one DRL–turn signal application. The product series—involving the use of flip chips with high optical output, AlN substrates with high thermal conductivity, and anti-sulfuration phosphor—can maintain high levels of color rendering and color light output per unit area at high temperatures.

Leading car companies have increasingly demanded for displays featuring HDR, local dimming and wide color gamut and emphasized the use of automotive direct-lit HDR (Mini LED) displays. As TrendForce reported, Everlight has become a supplier of automotive direct-lit HDR (Mini LED) displays for European and Chinese automakers. The company is expecting more partnerships in the coming years, stimulating its business development in the automotive display sector.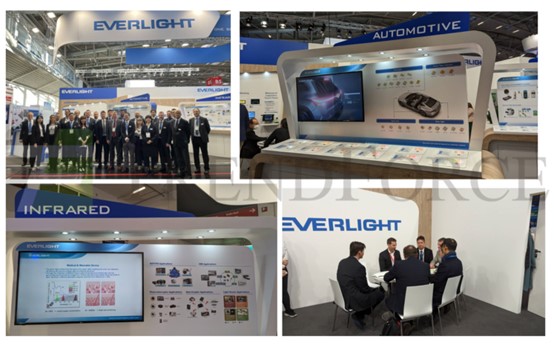 During the event, Brightek focused on automotive applications as its visual design topic and presented a series of intelligent ambient light solutions, highlighting comprehensive built-in RGB LEDs for driver ICs. The LED products help largely simplify circuit design, increase product application flexibility, achieve full-color mixing and create dynamic scenarios. As the first Taiwanese member of ISELED, Brightek unveiled the ISELED LED 3023 (3.0X2.3X0.9mm), currently the world's smallest component of its kind with the lowest thermal resistance. The LED is capable of color correction up to the 1SDCM level, thereby ensuring color consistency; additionally, its new packaging technology noticeably helps mitigate electromagnetic interference (EMI), a problem that has long troubled its customers. To meet the requirements of next-gen cockpit designs, Brightek offers a variety of IC LED options, including an IC LED fabricated using flip chip packaging with 5,000nits of brightness (comparable to outdoor displays) as well as a slim side-light IC LED that can be combined with outer moldings to achieve uniform multi-color reproduction within 10mm-optical thickness, which can satisfy clients' various design requests for ambient and intelligent displays.

In addition to IC LED applications that have been adopted by its clients, Brightek demonstrated ambient light LEDs that can be installed in headlamps, automotive seats and sunroofs in the future. Moreover, as the demand for head-up displays has increased in the automotive market, the exhibitor displayed its latest PGU (picture generation unit) backlight module using CSP LED technology. With thickness of only 15mm, the module boasts 1.5 million nits of brightness, a beam angle of 10×20°, and 90% luminance uniformity, delivering optimal display performance.

Brightek not only presented its achievements related to visible light applications but sensing solution lineups including an ambient light sensor (ALS), proximity sensor and 1D iToF package. Specifically, the iToF product is equipped with a high-efficiency VCSEL and high-sensitivity PDIC, enabling the spatial proximity to reach 4 m and higher. Further, the package is made using the latest OLGA package miniaturization technique, allowing clients to save more space for circuit design. Regarding cockpit applications, the manufacturer showcased its high-power VCSEL and IR LED products with flood light sources and various beam angle designs. The VCSEL, in particular, features automatic monitoring, hence its ability to protect the user's eyes. The IR LED offers numerous new beam-angle options for customers to determine the optimal light intensity distribution for image adjustment.

To demonstrate its ability of providing comprehensive solutions for its customers regarding smart automotive applications, Brightek actually installed its IR LED and VCSEL with asymmetric beam angles in modules of 3D active stereo vision cameras and ToF cameras.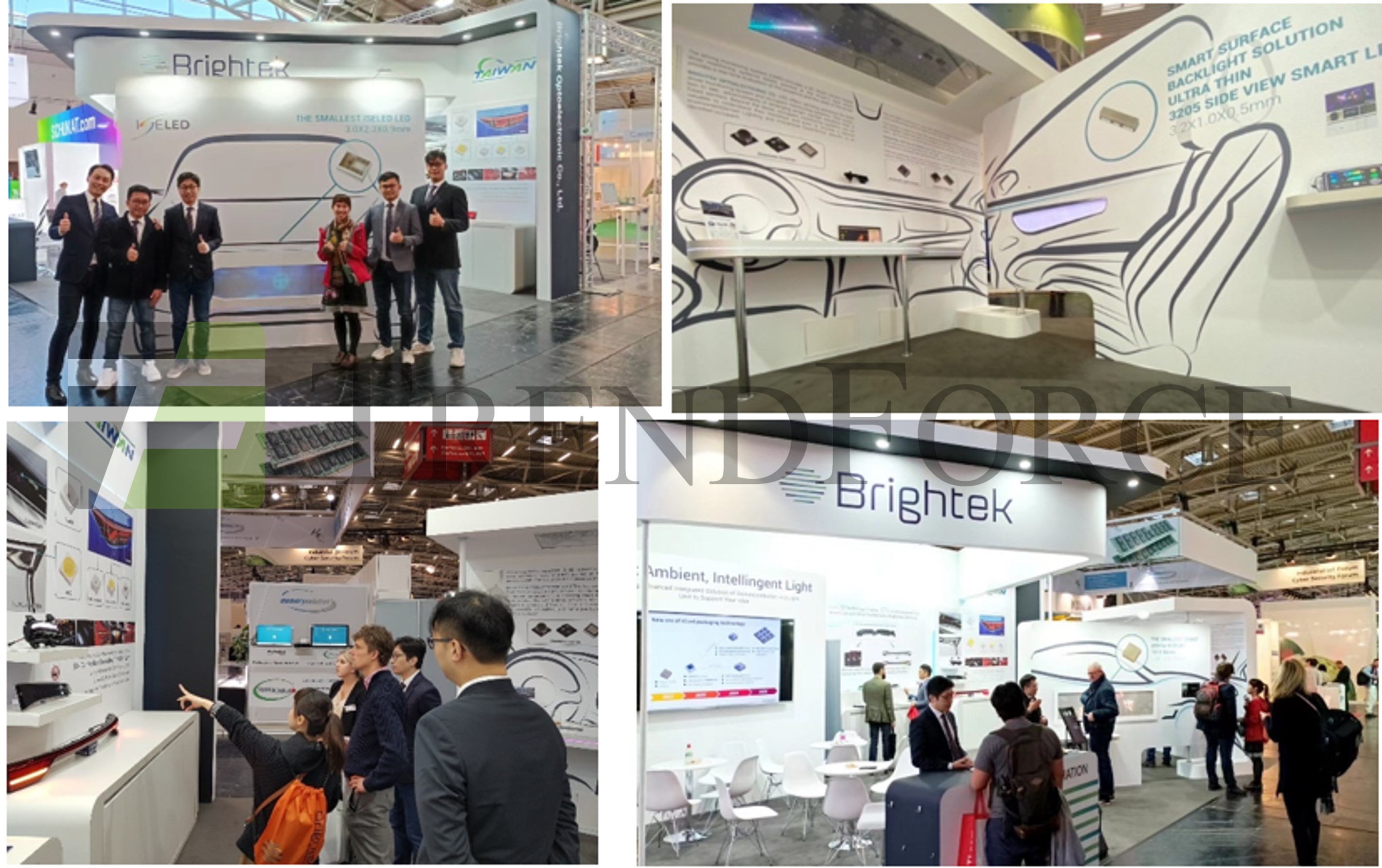 ams OSRAM again impressed the attendees by proposing new sensing solutions from consumer electronics, industrial to automotive segments with the title "Sensing in a new light". The exhibits included the following: 1) bio-sensing and micro-projection optical components for wearables, 2) image sensors for 2D/3D sensing and a 3D sensing-based DMS, 3) under display OLED proximity and color sensors, 4) a dToF sensor with a wide viewing angle and 16x8 detection zones enabling multi-object tracking and 5) single-strip/rectangle tail lights. Specifically, the OSIRE E5515 is a three-color RGB side emitter that enables light coupling into thin materials such as lightguides, providing customers flexible options for ambient light applications with exceptional brightness performance.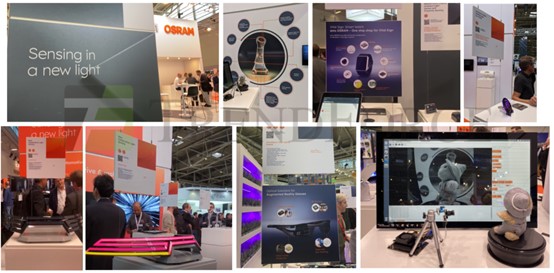 Samsung's PixCell LED—fabricated using advanced processes like 8-inch GaN on Si, wafer-level packaging and thin-film flip chip—has been installed in American electric vehicles. Compared to conventional car lights, the PixCell LED helps reduce the headlight size and optimize car light design. According to TrendForce, the 100-pixel matrix LED solution is likely to replace its 84-pixel counterpart in the coming years.

In response to the three major trends in automotive lighting, namely personalization, communication and ADAS/autonomous driving, Samsung has been endeavoring to develop Mini LED packages for tail lights and communication displays.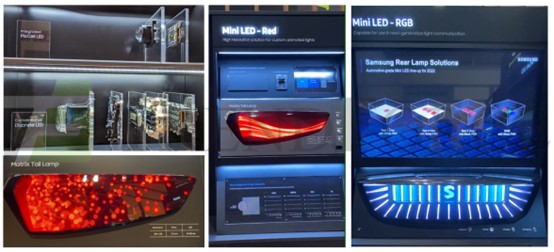 To meet the demand for HDR, local dimming and wide color gamut components, Tianma, Truly and TCL CSOT all exhibited products with a large amount of local dimming zones.