The second meeting of the 9th BRICS Working Group on Semiconductor Lighting Cooperation was successfully held
The second session of the 9th Meeting of the BRICS Working Group on Semiconductor Lighting cooperation, hosted by the Secretariat of the International Semiconductor Lighting Alliance (ISA), was held on 13 July 2022 at 18:00 online (Zoom platform). The three-day event lasted from 12 to 14 July. More than 10 representatives from governments, research institutes and industries of BRICS countries Brazil, Russia, India, China and South Africa attended the meeting.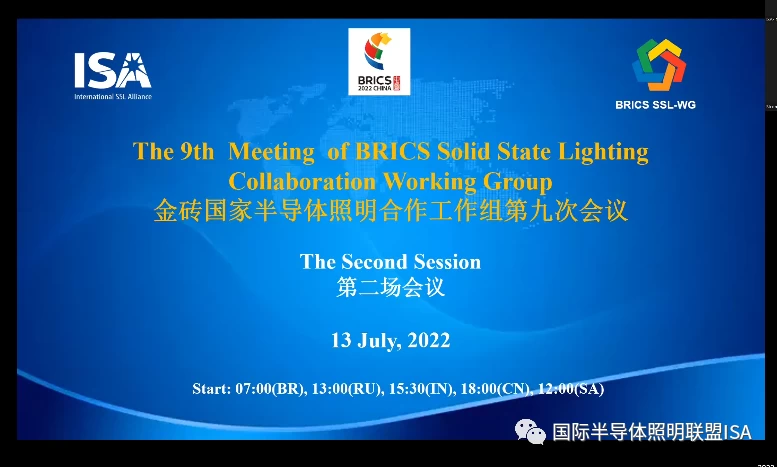 The participants also included more than 30 enterprises, research institutions, universities and industry representatives from more than a dozen countries, including China, Malaysia, Thailand, Myanmar, Australia, the United States and Zambia.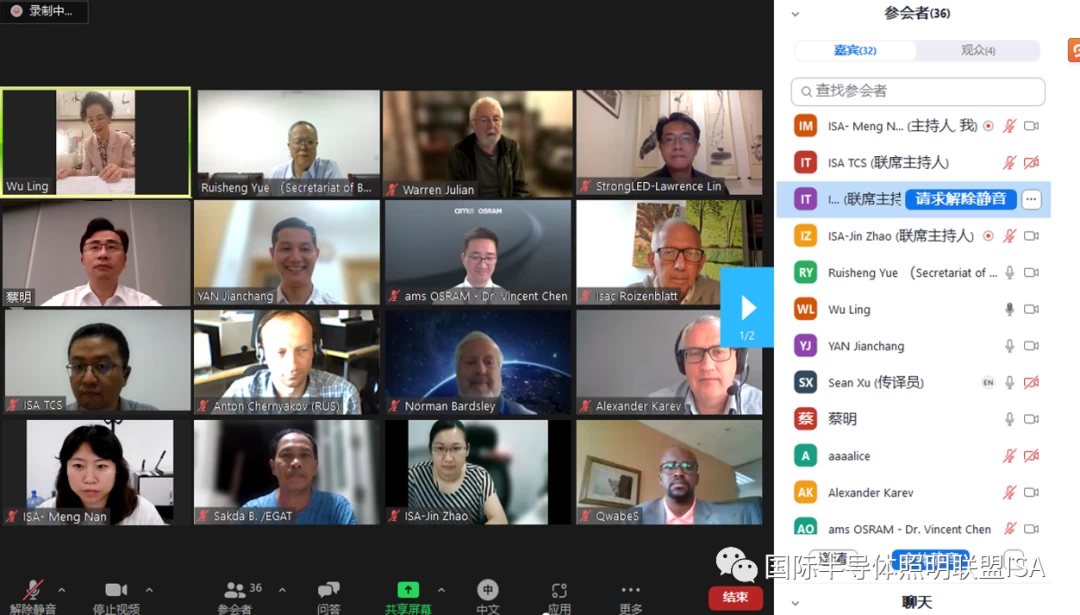 Professor Warren Julian, ISA Board member and Emeritus Professor of The University of Sydney, attended the meeting. Nearly 50 people attended the second meeting.
The conference was chaired by Ms. Wu Ling, rotating Chair of BRICS countries in 2022, representative of China semiconductor lighting industry and Chairman of China zhongguancun Semiconductor Lighting Engineering R&D and Industry Alliance.
The second session was themed "Beyond Lighting". Graffiti director Mr Sun Liwei intelligent lighting products, zhejiang Fang Dazhi control technology co., LTD., founder and CEO, Dr Hong-wei song grand canyon lighting CEO and co-founder Lin Jiliang Mr Health and safety protection, China academy of standardized visual experiment room temperature ms rong rong, ai, osram lighting division director of the global application technology Dr Wen-chen Chen, hubei deep purple technology co., LTD Ms. Zhang Huixue, General Manager of Shanxi Zhongke Lu 'an Uv Optoelectronic Technology Co., LTD. Dr. Yan Jianchang, Director of R&D Center of Longteng Lighting Group Co., LTD. Mr. CAI Ming, chief analyst of ISA Norman Dr. Bardsley and Dr. Jiajie Fan from Fudan University introduced the latest developments in r&d and technology in the areas of indoor and outdoor smart lighting, health lighting, UVLED sterilization and disinfection, smart lamp poles, reliability research of semiconductor lighting systems, energy efficiency of semiconductor lighting industry, etc.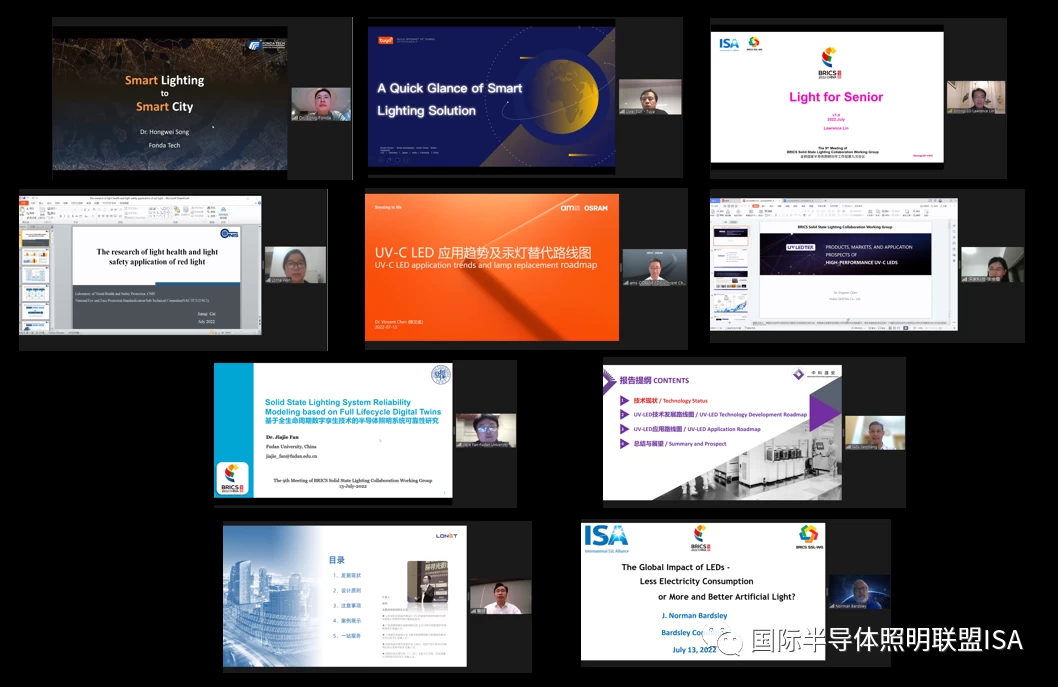 Participants discussed questions of interest and the speaker answered questions.
At the conclusion stage of the conference, Ms. Wu Ling, the chairman of the conference, said that in addition to the content of today's speech, Mini/Micro LED future display technology, photobiology, photomedicine, agricultural lighting and light energy efficiency ushered in a new upsurge in the development of semiconductor lighting industry at home and abroad in these hot areas have carried out a lot of work. It is suggested that the Secretariat make good use of the platform of brics Working Group on Semiconductor Lighting Cooperation to hold thematic seminars and conduct exchanges and cooperation on technological development, R&D, innovation and application in the above-mentioned hot areas.
Finally, the chairman thanked the ten speakers for their wonderful speeches. As there was limited time for speeches and questions, the Chairman suggested that people should contact the Secretariat for the contact information of speakers on topics of interest to facilitate more communication and interaction.