Night light show! Changhai Xiaoshuikou Forest Park is very beautiful
aosuikou Forest Park, a national 3A scenic spot located in Xiaochangshan Island town, Changhai County, has officially opened its nighttime light show since July 23. From 19:30 to 21:30 every day, visitors enjoy a sea of lights and enjoy the different night scenery of the beautiful Changhai.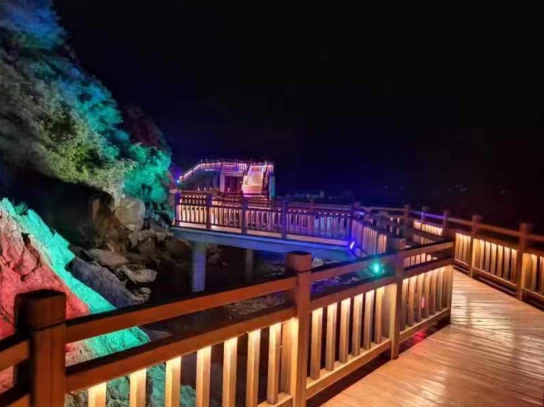 Xiaoshuikou Forest Park is located at the easternmost point of Xiaochangshan Island, covering an area of 1.2 square kilometers. The park has a 550-meter walkway down the sea, including a 30-meter glass walkway. Overlooking Hai Ting, Dream Circle Pavilion, Geng Hai Ting, sea sightseeing platform, oak forest post station, concentric bridge, forest walk and other viewing facilities are orderly distributed in the park. The scenic spot is densely planted with more than 20 varieties of trees and shrubs. The forest coverage rate is more than 80%. It is known as a natural oxygen bar. Xiaoshuikou Forest Park was rated as AAA scenic spot by the state in 2014, and was rated as a national scenic spot with reliable price in 2015.
The scenic area of Xiaoshuikou Forest Park is divided into two parts: Xiaoshuikou View area and Liesuiping viewing platform. Among them, Xiaoshuikou scenic area covers an area of 18,000 square meters, and across the sea is the famous pearl double Tuo scenic area, directly into the eye is sand bead dunes, hiding behind the sand bead dunes is the wave snail dunes. Shatitudozi gets its name from the sand and rocks on its shore that resemble beads. Bosnail Tuozi gets its name from the sea surrounding it. Two dunes are 59.5 meters and 53.9 meters above sea level, with an area of 0.25 square kilometers and 0.18 square kilometers, respectively. Next to Bosnail Dunes is a small Bosnail Mound, 600 square meters in area and 50.3 meters above sea level. But what is amazing is that there is a Shashigang connected with Xiaoshuikou and sandball dunes. People can come and go from Shashigang when the tide is retreating.
The night light show will transform Xiaoshuikou Forest Park into an island dream land combining ecological leisure. According to the Changhai County culture and tourism bureau relevant person in charge of introduction, at present is the peak season of island tourism, every evening, to the small water mouth Forest park to watch the light show of tourists in an endless stream.