Ismaning will become Germany's soccer center at the 2022 FIFA World Cup: MagentaTV will show all matches and supporting program from hybrid World Cup studio – with support from PLAZAMEDIA
PLAZAMEDIA
2022-11-25 09:51:51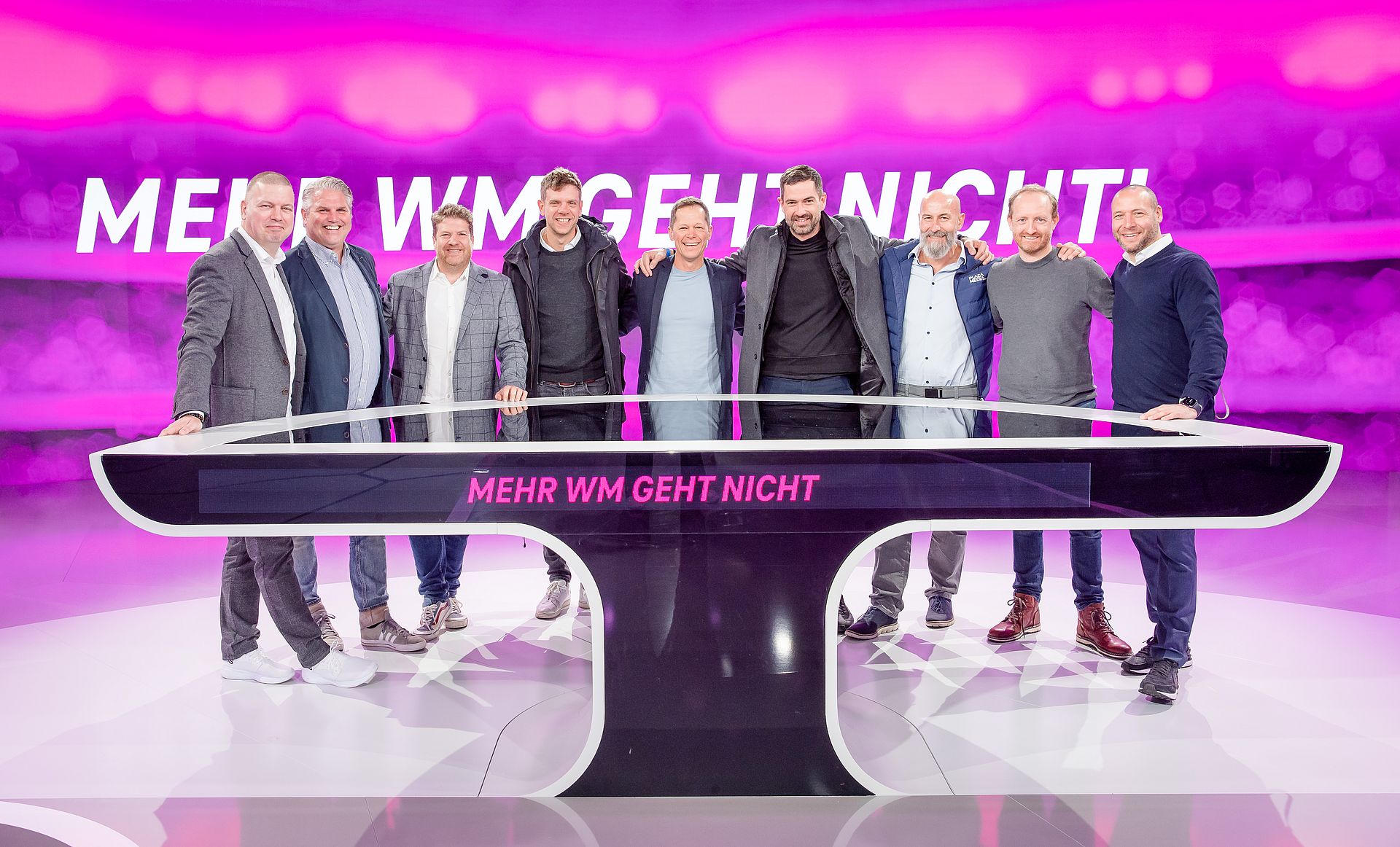 Ismaning, November 14, 2022 – Deutsche Telekom will air all 64 matches of the 2022 FIFA World Cup live on MagentaTV from November 20 to December 18. Today, Telekom presented the hybrid World Cup studio at a Media Day at PLAZAMEDIA at the AGROB Medienpark in Ismaning near Munich. During MagentaTV's coverage, this new and innovative XR LED Studio from PLAZAMEDIA will be a central element, combining real set architecture and physical media feeds with a digitally generated, virtual extension ("augmented reality") in a 360° world. The centerpiece of the 350-square-meter studio set, in which four cameras realize the interplay of virtual and real elements in real time, is a 33-meter-wide and 3.5-meter-high curved LED wall. As part of its activities as a production service provider on behalf of FORTY10 for Telekom, PLAZAMEDIA GmbH will be responsible for realizing all matches of the 2022 FIFA World Cup on six channels in UHD and HD, as well as signal supervision for the entire inside production on 23 live game days and 29 production days.
PLAZAMEDIA enriches the 2022 FIFA World Cup for MagentaTV – XR LED Studio sets new standards for productions with emotional storytelling 
The production for Deutsche Telekom's MagentaTV will take place on PLAZAMEDIA's studio premises in Ismaning with an appropriate safety and hygiene concept on 2,600 square meters  with six playout channels, the World Cup main studio and a complete inside production environment with uninterruptible power supply to provide the major soccer event live and on demand with innovative technology and in best quality – for the first time also in UHD HDR. The 690-square-meter main studio with its state-of-the-art features - including an LED wall from the European company Alfalite, augmented reality and virtual graphics – is creating a completely new experience, drawing viewers at home and in the studio even closer into the World Cup. 
Therefore, PLAZAMEDIA has chosen an LED wall with extremely high viewing angle stability and a fine pixel pitch of 1.9 millimeters paired
with the Unreal ® Engine from Epic Games as the real-time render engine. The Unreal Engine contains the digital model of Doha Bay in Qatar: Daytimes, swell of water and special effects can be changed at any time at one click. The studio ceiling is replaced with an augmented reality starry sky for the viewer at home. This is made possible by seamlessly integrating the Unreal Engine with Vizrt's Viz Engine used for the AR environment. Combining the Unreal ® Engine 5 and the Viz Engine 5 offers outstanding workflow advantages for use in the World Cup studio, which are fully exploited by PLAZAMEDIA's technology and graphics team. To ensure that all camera movements are being transferred to the virtual world, the position of the four studio cameras is constantly tracked and the data transferred to the render engines using Mo-Sys Startracker and Mo-Sys bMR systems. 
Virtual Production LED Studio offers a wide range of production possibilities  
The 2022 World Cup is the perfect occasion for the use of PLAZAMEDIA's new Extended Reality (XR) LED Studio, which will offer a wide range of possibilities for novel and sustainably realized productions in the future. With the XR technology, PLAZAMEDIA offers media and production companies as well as advertisers the chance to stage their brands in an innovative and resource-saving way. From broadcast/TV and film, to corporate productions such as commercials or photo shoots, to on-location, hybrid and virtual events, as well as presentations and training courses, the novel XR LED Studio provides almost unlimited possibilities to create new worlds with flexible production options and individually design the respective brand awareness. 
Jens Friedrichs, Chairman of the Management Board of PLAZAMEDIA GmbH, said today at the Media Day during the presentation of the hybrid World Cup studio: "After the UEFA EURO in 2021, we are producing the 2022 FIFA World Cup, the world's biggest sports event of the year, for MagentaTV. We seize this opportunity to launch our innovative XR LED studio for creating completely new possibilities in studio productions here in Munich: On the one hand, regarding state-of-the-art productions combining real and virtual elements, and on the other hand regarding environmental sustainability. We would like to thank Deutsche Telekom and FORTY10 for their great trust and the other service providers involved, such as thinXpool, for their excellent cooperation on this World Cup project." 
Germany's biggest World Cup offer with MagentaTV 
MagentaTV is the only provider in Germany to show all 64 World Cup matches – also in UHD via MagentaTV receivers (Media Receiver, MagentaTV One, MagentaTV Stick). 16 of these matches will be shown exclusively on Telekom's TV service, and eight conferences will also be broadcast for the first time. The World Cup content is included in all MagentaTV rates for existing and new customers and is available both live and on demand at any time. MagentaTV will broadcast up to 14 hours of programming daily, plus a conference for parallel matches. Telekom will show the World Cup on MagentaTV on the three channels FOOTBALL.TV 1-3. On the first channel, the matches will be available in classic form with commentary. On channel 2, there will be a special tactics feed for selected matches with a camera perspective from the long shot and its own tactics commentary. On the third channel, linear TV and social media are combined. Soccer influencers Pascal and Marcel Gurk welcome guests to the social media studio every day and will follow the matches together with them as a reaction stream. On the final group match days with parallel matches, a conference option will also be available. 
PLAZAMEDIA technically implements over 1,500 live productions per season for Telekom 
PLAZAMEDIA has already been working as a cooperation partner for Telekom since August 2019, realizing over 1,500 live productions per season for linear TV and online/OTT offerings as part of the MagentaSport offering – including from the PENNY DEL, the easyCredit Basketball Bundesliga, the German soccer 3rd League and the FLYERALARM Women's Bundesliga in soccer. Last year, PLAZAMEDIA had also already staged the European Soccer Championship as a production service provider for Deutsche Telekom. 
Attached are photos from today's Media Day with the presentation of the MagentaTV World Cup studio for the 2022 FIFA World Cup and the team including PLAZAMEDIA's representatives Jens Friedrichs and Hardy Steinweg (first and third from right, Copyright: PLAZAMEDIA GmbH | Nadine Rupp) and a photo of Jens Friedrichs (Copyright: PLAZAMEDIA GmbH) for free use in the context of editorial reporting.