Cree LED Unveils Outstanding LED Innovations at LightFair 2022, Aiming to Architectural and Horticultural Lighting
LEDinside
2022-11-24 08:49:50
Cree LED, an SGH company (Nasdaq: SGH), opened LightFair 2022 with the debut of the recently launched XLamp® Element G (XE-G) LEDs and the upcoming Photophyll™ Select LEDs, delivering new LED innovations aimed at architectural and horticultural lighting. These innovations fully demonstrate Cree LED's continued efforts to push the boundaries of LED technology along with the commitment to lead the industry with best-in-class technology, quality and performance. TrendForce has an honor to have an interview with Paul Scheidt, Senior Product Marketing Manager at Cree LED, one of the leading industry suppliers of the market to learn how innovative LED technology supports current architectural and horticultural lighting applications.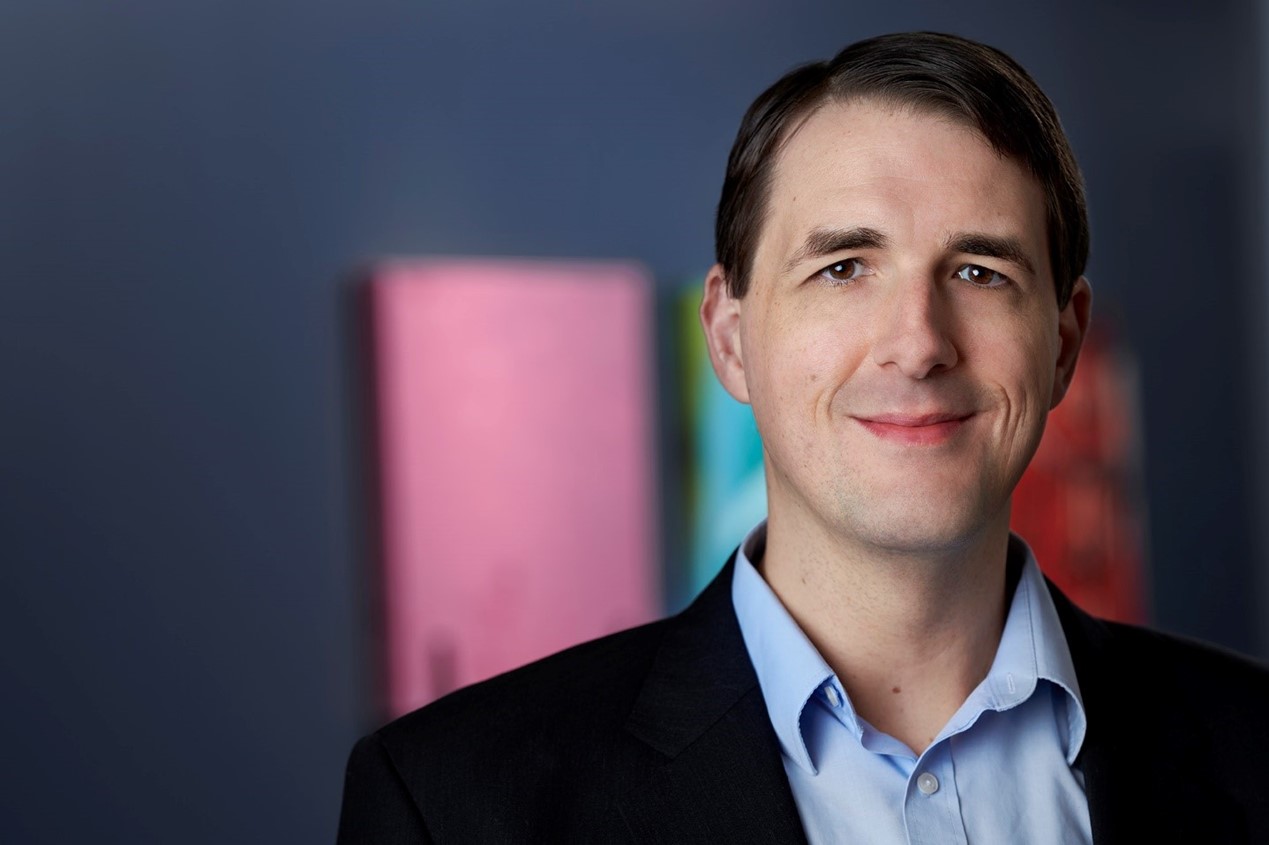 (Paul Scheidt, Senior Product Marketing Manager at Cree LED; image: Cree LED)
Topic One: Architectural Lighting

Scheidt noted that in architectural lighting, Cree LED's customers have requested higher output color LEDs for a long time. In response to the requirements of high luminous intensity and small light emitting surface (LES), Cree LED successfully developed and grandly released XLamp Element G (XE-G) LEDs at LightFair 2022. Scheidt indicated that the product has nearly 3x light output of the XLamp XQ-E LED and 9x the lumen density of the XLamp XP-E2 LED.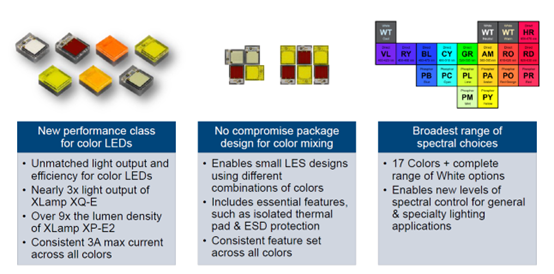 Particularly, XE-G LED has broadest range of spectral choices, up to 17 color options.
The package itself with compact design has pretty cool design. For instance, it has a very small LES (<1.5x1.5mm), and extreme high luminous intensity. Meanwhile, the product owns Class 3 ESD protection and larger 1.8mm2 electrically isolated thermal pad. The XE-G LEDs have obvious advantages over existing CSP and competing high power LEDs.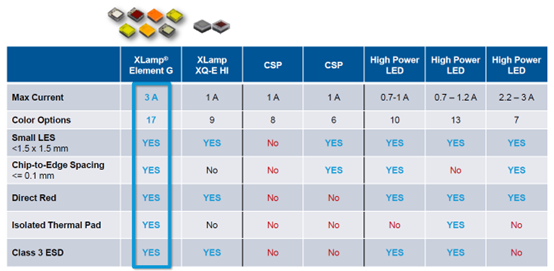 Scheidt noted that some applications for XE-G LEDs are obvious, such as outdoor architectural lighting, emergency vehicle and automotive aftermarket lighting. At LightFair 2022, Cree LED demonstrated four XLamp XE-G LEDs in a tightly packed RGBW LED array for architectural applications with only 3.4 x 3.4 mm LES.

In addition, Cree LED demonstrated how XE-G LEDs could be used in less-obvious way for indoor general lighting applications. A second reference design for tunable CCT indoor lighting was shown using a 6-channel LED array (5.2x3.4mm LES), using the colors red, cyan, green, royal blue, PC lime and PC amber. The product has CCT of 1,800-7,500K and CRI >85. The potential market includes the premium indoor directional lighting and human centric lighting markets.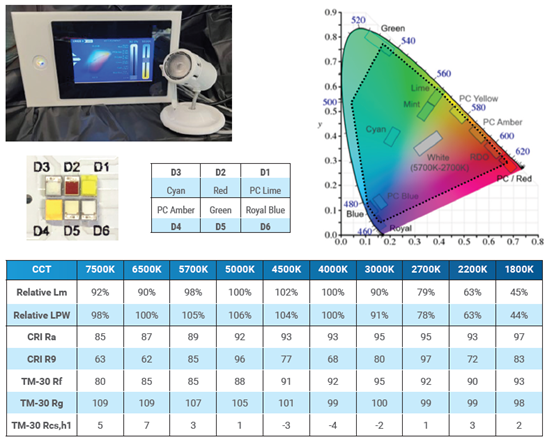 Topic Two: Horticultural Lighting

Scheidt indicated that efficiency and color spectrum are emphasized in the horticultural lighting market. Therefore, at LightFair 2022, Cree LED demonstrated their new Photophyll Select, the first LED color fully optimized for 2-channel horticultural lighting. The product with Photo Red is designed to replace the white LED common in two-channel white + red luminaires.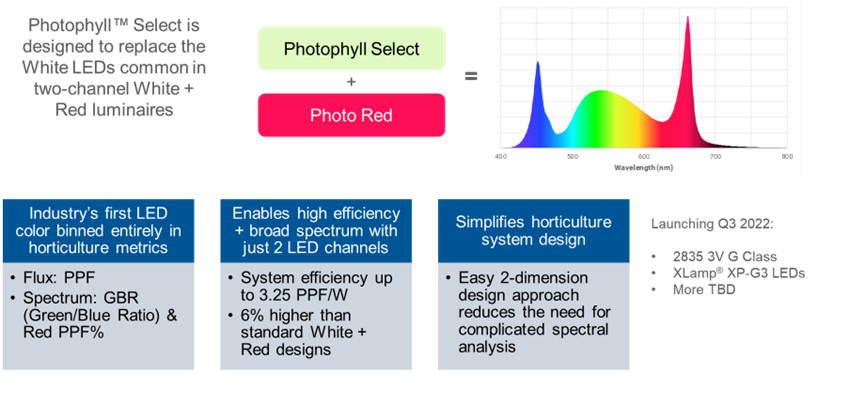 Take Photophyll Select luminaire as an example, 1,152 pcs of Photophyll Select LED are used in the luminaire, PPF/W value reaches 3.25. Compared with the previous solutions, this new product delivers a 6% higher in PPF & PPF/W and a 17% higher in lumens & LPW. Therefore, the lighting system cost can be improved.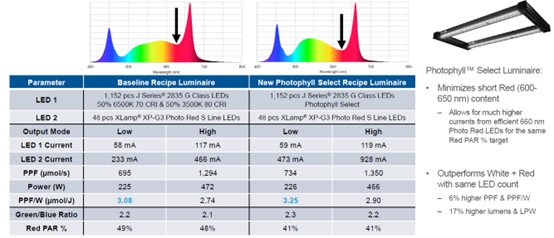 Compared with competitors, Photophyll Select LEDs can precisely control over the green/blue ratio and can be used in greenhouse and vertical farming. The product will be officially released in 3Q22 on the J Series 2835 3V G Class and XLamp XP-G3 LEDs.

This year, and for the future, Cree LED will continue to set the standard in leadership performance and reliability in new and existing products. It will also remain focused on the architectural and horticultural lighting segments and enable customers to find success.