Lumileds Expands Philips Xperion 6000 LED Work Light Line with New Flood, Underhood Lights
LUMILEDS
2022-11-18 09:04:02
Lumileds Expands Philips Xperion 6000 LED Work Light Line with New Flood, Underhood Lights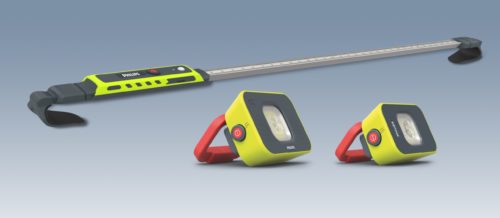 LUMILEDS ADDS THREE NEW MODELS TO POPULAR XPERION 6000 WORK LIGHT LINE.
State-of-the-art work lights are designed with auto service professionals in mind
Farmington Hills, MI – November 1, 2022– Lumileds, a leading lighting solutions company, introduced three new lights to its popular Philips Xperion 6000 LED work light line today. The new lights include the Xperion 6000 Flood Audio, Xperion 6000 Flood Mini, and the Xperion 6000 Under Hood Lamp.
The Xperion 6000 Flood Audio features a variable beam that delivers 1000 lumens in flood mode, and 250 lumens in spotlight mode. The light includes built-in Bluetooth speakers that allow audio to be played directly through the work light, and also serves as a USB power bank. The Flood Audio features a motion detection function and a smart-zoom knob that allows users to easily control the light, even while wearing work gloves.
Illuminating work in tight spaces is exactly what the Xperion 6000 Flood Mini is designed for. The Flood Mini can be secured by either the integrated magnets or the versatile hook, depending on the need of the job. The light features multiple light output options from 500 lumens in flood mode to as few as 100 lumens and a battery life of 3.5 hours.
The ultimate lighting solution for under-the-hood work is the Xperion 6000 Under Hood Lamp. This work light provides up to 1200 lumens and a 5800K color temperature. The Under Hood Lamp is built on a telescoping mount that allows the light to be fitted to the exact size of the vehicle hood. Its 120° wide angle beam illuminates the entire engine compartment and motion detection and dimming functions give users the exact amount of light they need, where and when they need it.
"We worked directly with mechanics on the design and features of our new work lights," notes Jason Dreger, Lumileds Product Manager. "Professional technicians depend on the functionality, quality, and reliability of their tools and all of our new work lights ensure that they have a light that is durable, dependable and simple to use. Like all Philips Xperion 6000 LED work lights, these new models are resistant to impacts, water, and solvents, and can be operated at the push of a button or even hands free."